……Eggsample of an Eggstraordinary Eggsperiment…..
You will need:
One egg
Tap water
Salt – six tablespoons
Tall drinking glass
Instructions:
Pour water into drinking glass so it is about half full…at least enough water so the egg will be covered in water.
Place egg in water.  It should sink to the bottom.  If it doesn't sink, the egg is rotten – throw it away and get another one.  Make sure the new egg is fresh.  Fresh eggs will sink to the bottom.  They may not lay on their side, but part of the egg should touch the bottom of the glass.
Remove the egg and fill up glass with more water if necessary.
Without putting the egg back in, stir in salt.
Without stirring, carefully add more water so the glass is a little more than three-quarters full and does not mix with the salt water.
Gently lower the egg into the water….you don't want the water splashing out or to mix the salty water at the bottom with the added tap water.  Watch what happens.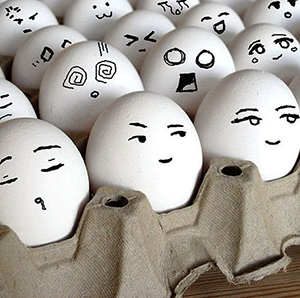 Salt water is denser than ordinary tap water.  The denser a liquid is, the easier it is for an object to float.  When you lower the egg in the cup, it drops through the normal tap water until it reaches the salty water…at this point the water is dense enough for the egg to float.  If you were careful when you added the tap water to the salt water, they would not have mixed and the egg floated in the middle of the glass.  If the added water did mix with the salt water, the egg would still float, but it would float near the top of the glass.